If you've been wondering how you can jump on the cryptocurrency bandwagon and make yourself a fortune, then iCoinPro might be exactly what you are looking for.
Why iCoinPro? Because iCoinPro is not only making the most noise in the world of cryptocurrency right now, they even offer a free training program that will (supposedly) teach you everything you need to know about the cryptocurrency markets.
Sounds too good to be true? Not with icoinPro…
What exactly is cryptocurrency anyways?
Okay, so even if you're an absolute newbie to all this you've probably still heard of Bitcoin, right?
Bitcoin is just one, okay the most famous and most popular, example of a cryptocurrency. Think of it as digital money, created from code, an encrypted string of data that represents one unit of that currency.
But just in case you're rolling your eyes and wondering if this is all a bunch of geeky/nerdy stuff, don't.
Back in May of last year, one Bitcoin was worth around $2,340.
Now, if that doesn't make you sit up and pay attention, then you are really missing out.
Why are so many large investors and billionaires investing in cryptocurrency?
Because crypto's are the currency of the future. It is independent of corporate banks and international financial institutions. And the potential for cryptocurrency is enormous.
There are some experts out there who estimate that in ten years time one single Bitcoin will be worth a cool, one million dollars.
Crypto is the way to go, people.
"Okay, I got all that. Now tell me about iCoinPro."
A lot of people think that a cryptocurrency is an investment option that can only be accessed by millionaires and billionaires. This is totally not true. Anyone can get involved in cryptocurrency, even if they start with say, $100 worth of Bitcoins or even less.
IcoinPro is bringing the concept of cryptocurrencies to the average person.
It teaches them what Bitcoin and crypto's are all about, including how to buy, sell and store them.
But that's not all.
iCoinPro also educates it audiences about multiple income streams.
So, how does it work?
Besides teaching you how to make money in the cryptocurrency markets, iCoin Pro is also an MLM (Multi Level Marketing) system. It means that everyone who joins pays a monthly fee, and when you join you get paid from everyone who joined after (or under) you.
But according to iCoinPro, this doesn't mean you have to go chasing after new recruits if you don't want to.
In fact, the company claims you can earn up to $4000 every month without ever enrolling a single person.
Got it!
But when you check out the rewards that iCoinPro claims to pay each month, you have to wonder why not every single person on this planet isn't getting in on the act.
Payments of anywhere between 10% and 60% from people you don't even know are a fully legitimate and legal part of the system.
Learn Cryptocurrency Trading with IcoinPro
Before we get into talking about the crypto trading training offered by icoinPro this is how the training backoffice looks like, with lots more to it ??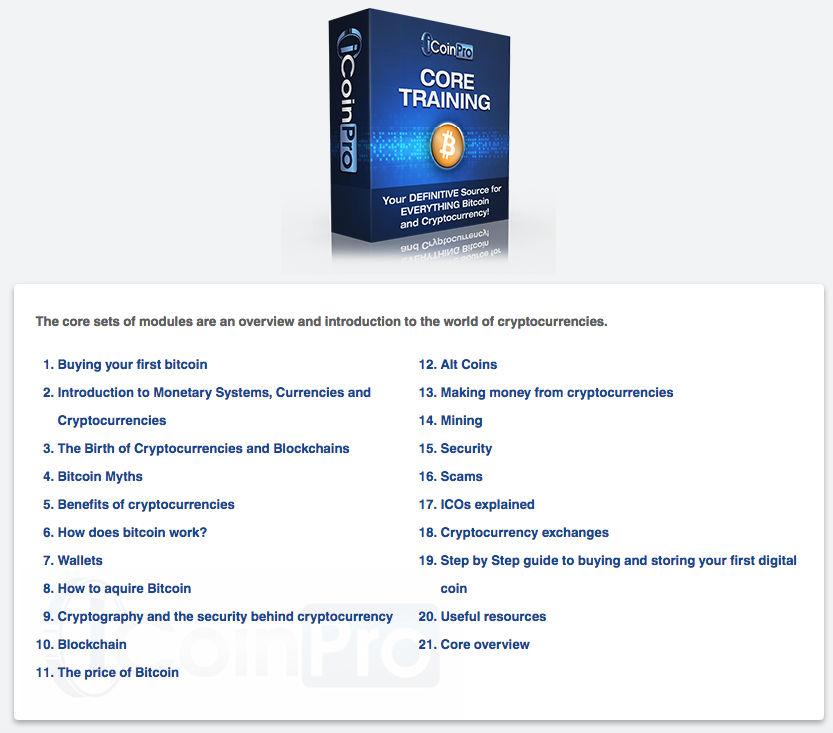 As you may have heard iCoinPRO has a well known crypto trader by the name of Justin Clark that put up a great cryptotrading course called the micro profits system , he teaches you how to trade cryptocurrency with very small risk and making big profits month after month with compounding. He also teaches how to spot coins that will skyrocket in price and when to buy them so you can sell them later on with a huge return of investment.
There are lots of icoinPro members that post daily screenshots in the icoinpro facebook group with their nice returns doing cryptotrading by learning from the training that provided in icoinpro backoffice.
Conclusion
…we believe that as money-making systems go, iCoinPro is one of the better deals you can find anywhere on the web. Their credentials check out.
The company website smacks of serious professionalism. And they are OUT THERE. Meaning, they are well represented on the Internet and not hiding in some dark niche' corner. waiting to entrap some unsuspecting investor like a fat spider lures a curious fly into its web.
Time, patience and a healthy dose of hard work are going to be the key to your success.
But what iCoinPro does that is different to everyone else, (and if we're honest this is what really convinced us about iCoinPro) is that they provide free training.
Training to the value of tens of thousands of dollars.
And if they weren't legit, why the heck would they even think about doing free training?
Ask yourself; does it make sense to sleep on this offer?
Think thoroughly about what you stand to lose and what you stand to gain from iCoinPro.
And then take a step in the right direction.
You will be glad you did, just like thousands of others like you that joined us over the years.
Listen to Paul De Sousa while Bill Gates & Sir Richard Branson agree: