From: Glen Brink

Dear Friend,
Are you on Twitter yet? Surely an opportunity such as this cannot be missed!
Twitter is a global phenomenon that is growing every second of every day, with millions of people eagerly awaiting your messages. All your messages are funneled straight into their page and they don't even have to click to read them, so you never have to worry about email open rates again!
There are people in every niche imaginable out there, while researching this book I tried to find one that wouldn't be on there, I thought 'crochet' wouldn't be on there, boy was I wrong! After 8 pages of results I got bored and stopped, people are talking about anything and everything and if you can tap into their conversation and provide them with a good enough reason then you can:


Flood Your Website With Twitter Traffic!


Introducing 'Twitter Treasure Chest'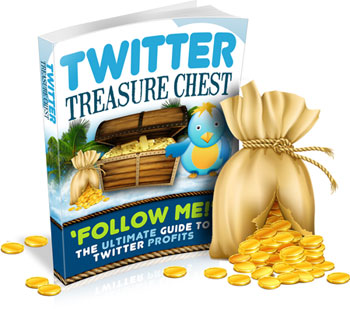 Twitter is here to stay and the smart marketers are all jumping on board for their slice of the pie, look for all the big names in any industry and they are all on Twitter.

What does that tell you?

It tells me that if all the people who are pulling down huge incomes online are jumping on this trend then I sure as hell had better get on board now while things are still this easy to get traffic and followers! I've uncovered devastating methods of Twitter domination that can have you at the head of a hoard of hungry followers who hang on your every word.
Forget list building, this is list building on steroids, where people login every day just to see what you are up to and what cool things you are going to introduce them to today.
Meanwhile I have a whole chapter dedicated to 'stealth' techniques that mean you can look like a hero when really you are shamelessly pulling in affiliate commissions from all the traffic that you are getting!

Here is what you could be learning just minutes from now!


| | |
| --- | --- |
| | How to pimp your profile so you magnetically attract ANY person who comes to see more about you! |
| | How celeb hunting can get you a load of raving fans and turn you into the celebrity... |
| | The single biggest mistake people using Twitter for profits make, and how that will end up costing you money not making it (I've done it too!). |
| | The drop-dead gorgeous free application that sits on your desktop and filters out the 'tweets' from your friends so you don't miss a thing |
| | How to use Twitter to give you the most accurate and profitable research you've ever had, handed to you on a silver platter with a little napkin to wipe the drool off your face from the prospect of all that extra money... |
| | Techniques to build followers so fast I had to put a warning in there to pace yourself so Twitter doesn't think you are an automated robot! |
| | The three GOLDEN rules of Twitter that can make or break you... |
| | How to use subconscious marketing so that all the other marketers get called out for spam and your following just grows and grows! |
| | And so much more! |


Imagine having at your fingertips access to thousands of people in your niche - without writing one single article!
Let's face it, getting traffic is hard, the smart people go to where the traffic already is and then merely siphon some off for themselves - much easier don't you agree?
Well there has never been a better time than now to get on Twitter and get a huge following, I can almost guarantee that things are only going to get harder on there to get followers soon. If you get in NOW then you can have a huge, loyal following within weeks and keep them with you while all the other people in the years to come struggle to get past Twitter's new rules and get a measly hundred followers.

Do you want to jump in now or be locked out in the cold while the rest of us use this new red hot source of traffic for our own evil needs?



I have never found an easier way to communicate with people in a niche than this, you don't have the silly moderators of a forum, or the crippling costs of Adwords, the tedium of writing articles, none of that, I can log on and send a tweet in 30 seconds flat and have it reach thousands of people!
Don't believe me? How about this guarantee for peace of mind then:


I know the power this book has to revolutionize your online business.
So the risk is totally on me, unless you are absolutely thrilled with the results of this book then at
any
time within 60 days of purchase just shoot me an email and I will refund
every last cent
to you.
No questions asked.




People are getting more and more followers every day!


Think about it, if reading this book can get you just 100 followers, do you think you could make one $27 commission off them to cover the cost of this book? What about if you had 1000 or 10,000 eager followers? Would it be worth it?

We both know that it is only a matter of time before everyone is on Twitter, and whether you jump on now or later makes no difference to me as I am already on it, but for you then it could be a wasted opportunity to make more cash, find out more product ideas, build up a much more profitable and satisfying business, all utilizing the power of the phenomenon that is Twitter!

I'm here to run a business so I can't just give the information away for free, but then this priceless information could help you out so much that I don't want to price it out of people's reach, so $27 sounds fair to me, I get a fair pay for my work and you get your hands on some of the most advanced Twitter information around at a pittance of its true worth.

Look at it this way -- $27 is really a painless drop in the bucket to be able to get your hands on the 'Twitter Treasure Chest' and start using it right away to improve your business!



If you want to profit from Twitter then you need "Twitter Treasure Chest"




Are you going to join in with the Twitter party? Or stay on the sidelines watching everyone else profit?



There's no doubt about it, the amount of traffic that Twitter gets is extreme, it has an Alexa of 332 at the time of writing this, how long before it gets to number 4 and knocks facebook of its throne? Considering that it is still a baby and growing every day in leaps and bounds then not long!


Don't you owe it to yourself to get onto Twitter today?


Sincerely,
Glen Brink

P.S. Don't forget I shoulder ALL the risk here, unless you are absolutely blown away by the information then you don't pay a penny - it's as simple as that!

P.P.S Every second you don't have this information you are missing out as more and more people sign up to Twitter and join your competitors lists - take back control now!
Income Disclaimer
We make every effort to ensure that we accurately represent this product and its potential for income. There is no guarantee that you will make any specific level of income and you accept the risk that the earnings will differ by individual.
As with any business, your results may vary, and will be based on your individual capacity, business experience, expertise, and level of desire. There are no guarantees concerning the level of success you may or may not experience. Any examples used are not intended to represent or guarantee that anyone will achieve the same or similar results. Each individual's success depends on his or her background, dedication, desire and motivation.
There is no assurance that examples of past earnings can be duplicated in the future. We cannot guarantee your future results and/or success. There are some unknown risks in business and on the internet that we cannot foresee which can reduce results. We are not responsible for your actions.
The use of our information, products and services should be based on your own due diligence and you agree that our company is not liable for any success or failure of your business that is directly or indirectly related to the purchase and use of our information, products and services
If you think this product is a magic pill that will make you money without any effort please do not buy it. You will be required to put effort into learning this system and there is a very real possibility you may lose money.