curated by Glen Brink, January 2019, Bitcoin-Blog
14 Little Known Crypto Developments That Will Push Bitcoin New Record Highs...
Hey Glen, yesterday I walked you through the primary reasons why Bitcoin and the crypto market declined in the past month.
Today I'm going to show you the, "good news"... 14 incredibly positive developments taking place in the industry right now that the general public isn't aware of.

My goal?

To help you decide if Bitcoin and crypto are "dead", or if this industry and opportunity is just getting started, and if NOW is the time to buy…

So let's start with one of the biggest positive developments in the industry that I briefly mentioned yesterday…

The fact that the owners of the New York Stock Exchange (ICE), are launching a new crypto-asset exchange in Q1 of 2019 called, Bakkt...




Bakkt is designed to serve as a scalable on-ramp for institutional money, (banks, hedge funds, brokers, etc), merchant providers, and consumers by promoting greater efficiency, security, storage, and transfer of digital assets.

Large banks, institutions, and fund managers won't commit major investment dollars into this industry through exchanges like CoinBase, Binance or Bittrex. They are dealing with trillions of dollars, which requires the levels of security, settlement, and insurance that Bakkt will bring to the table.

This is a HUGE deal, and as I mentioned yesterday, Starbucks has partnered with them to enable payment in Bitcoin from within the Starbucks mobile app.

2: Fidelity Opens Crypto Exchange...
We've all heard of Fidelity. They are the 5th largest asset manager in the world, with 27 million customers, and $7.2 Trillion in assets under management.

Well Fidelity has launched a second company called, "Fidelity Digital Assets", to provide enterprise-grade custody solutions, trading platform, and advisory services to their 13,000 institutional clients.




Fidelity is opening up their $7.2 TRILLION dollars in assets to crypto, and will soon give their 27 million customers the ability to buy Bitcoin through their 401K.

3: Adoption of Square's "Cash App" Surges on iTunes...
As of this past week, "Cash App", the mobile payment application launched by Square, has become the 12th most downloaded app in iTunes, surpassing Spotify, WhatsApp, Venmo, Uber, Twitter, Lyft, and Google Maps.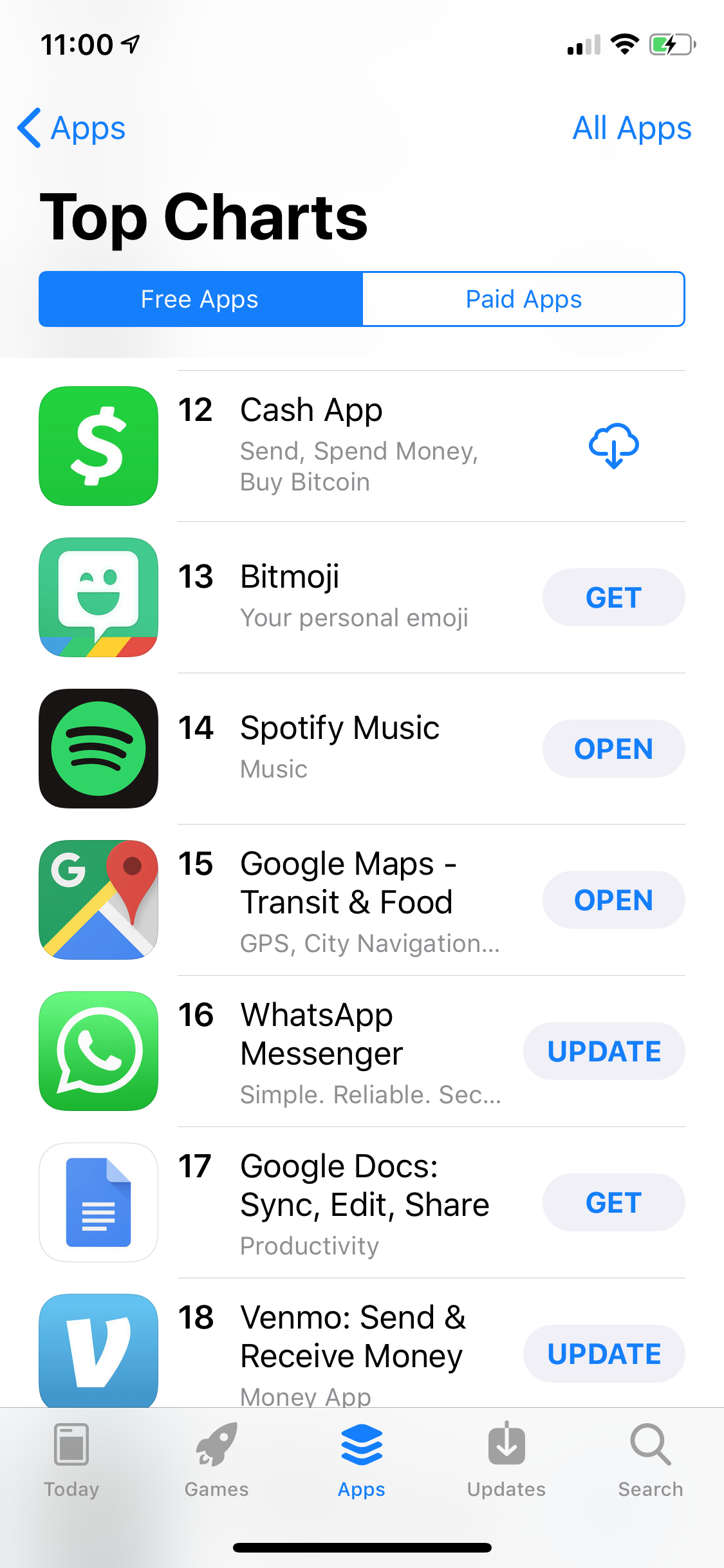 Why is that relevant?

Well just like PayPal and Venmo, Cash App makes it easy to send and receive money, but it has one primary distinction...

Cash App also makes it incredibly easy for their 40+ million users to buy and sell Bitcoin directly in the app. In fact, it's the easiest way to buy and sell Bitcoin in the world right now.

Do you think PayPal and Venmo will follow suit?

I'd bet on it.

4: Ohio Starts Accepting Bitcoin for Tax Payments...

Last month, the state of Ohio became the first state in the US to enable taxpayers to pay their taxes with Bitcoin.




They see the potential of this brand new industry, and they want to establish Ohio as the new preferred home for blockchain startups.

5: World's First Full-Scale Political Election Held on Zcoin Blockchain...
The world's first blockchain-based political election was held in Thailand last month using the Zcoin privacy token, (XZC).
The Thai Democratic Party, (the country's oldest political party), held an election for their new party leader.

Most e-voting systems rely on the use of a central database that is controlled by an administrator, (including here in the US), which can be hacked and tampered with.

To remove this risk, the election officials agreed to use Zcoin's decentralized public blockchain which has no central administrator.

The voter tallies and identity documents were encrypted in a way that protected voter privacy using Zcoin's privacy technology.

Over 127,000 votes were processed and added to the Zcoin blockchain, allowing completely transparent and tamper-proof voting for the first time in history.
Thanks to this technology, the final election results were available in less than 12 hours, in an audit-able format that was open to review by all parties.
This is just the beginning. Blockchain technology will revolutionize voting and provide a solution to the the growing issues of voter fraud.
6: German's Second Largest Stock Exchange Plans to Launch Crypto Trading in 2019...
Following ICE, Germany's second-largest stock exchange, Boerse Stuttgart Group, is set to launch a cryptocurrency trading platform in the first half of 2019 with SolarisBank.




Germany has the 4th largest economy in the world, and just like the developments from ICE and Fidelity, this will serve as an on-ramp into crypto for trillions of German Euros.

7: Binance Crypto Exchange Surpasses Nasdaq And Deutsche Bank Growth and Profits In Less Than 24 Months...

Binance, the world's most popular crypto exchange has grown from 2 million users in January of 2018, to over 10 million today. It also expects to see $1 Billion in profits from 2018, despite the bear market.




To put this number into context, the Binance crypto exchange produced $200 Million in 2018 Q1 profits, while Nasdaq produced $209 Million, and Dueutsche Bank brought in $146 million.

Binance is less than two years old and has 200 employees.

Nasdaq is 47 years old, with 4,500+ employees.

Deutsche Bank is over 150 years old, and has over 100,000 employees.

In less than two years, and during a bear market, Binance has surpassed these global institutions in every meaningful category.

This was one of Mark Zuckerberg's first cover photos from 2007...




This is Changpeng, Zhao, the Founder of Binance, in his first cover on Fortune.




Binance's financial growth has already outpaced Facebook's, and the best part, is that you and I can "invest" in Binance right now through a very specific token (Binance Coin) that I'll tell you about tomorrow.


8: Creation of ID-Verified Crypto Wallets Doubles in 2018...

According to a study conducted by the Cambridge Center for Alternative Finance, the number of ID-verified cryptocurrency users nearly doubled in 2018, from 18 million, to 35 million, despite the bear market.




Still think crypto is "dead"?
9: Bank of America Become Largest Crypto-Patent Holder...

Bank of America has become one of the most active banks in the world when it comes to filing blockchain and cryptocurrency related patents.




To date, they have filed 50 blockchain related patents since 2014, and were recently awarded a patent for a device that stores cryptographic keys and the document's details hint at applications for cryptocurrencies in October.


10: Salesforce Wins Patent For a Blockchain-Based Platform...

Yep, Salesforce has entered the crypto industry as well with a patented system designed to eliminate spam...




According to the patent filing, "the system can better identify legitimate (wanted) messages and distinguish them from illegitimate (unsolicited) messages. Used properly, the immutability and distributed nature of the blockchain can make it impossible to modify information once it has been committed to the blockchain."

Other uses for the concept could also help guarantee the authenticity of medical records, educational transcripts, deeds, property rights, legal documents, and more.

Salesforce has a $107 Billion market cap.


11: General Motors Files Blockchain Patent For
Self-Driving Cars...




General Motors filed a patent application this month that details a process by which self-driving cars would be able to store all their data on a distributed ledger. The document, produced by GM Global Technology Operations, further notes that any data stored could be easily shared among the blockchain's users.

They see this technology as a critical piece required to bring true autonomously driving cars to the road in mass.


12: Intel Wins Patent For Energy-Efficient Bitcoin
Mining Chips...




One of the biggest complaints about Bitcoin during last year's bull-run, was the amount of electricity required to process and verify transactions.

Improvements like the Lightning Network will address this challenge, and apparently Intel wants to get in the game as well.

Last month, the U.S. Patent and Trademark Office awarded the company a patent outlining a processor which claims to be able to conduct "energy-efficient high performance bitcoin mining," specifically naming the SHA-256 algorithm used by Bitcoin.

Intel is getting into crypto.


13: Amazon Launches "Amazon Managed Blockchain" Service...




Many of the largest companies in the world including Adobe and Netflix, use Amazon Web Services (AWS) to host their websites. (That's what we use at SMM).

Well as of last month, Amazon has entered the blockchain space when they announced the "Amazon Managed Blockchain" platform, which is a fully-managed service that makes it easy to create and run scalable blockchain networks.

Amazon is getting into crypto.


14: 25,000+ New CoinBase Accounts Created Per Day in 2018...




Finally, CoinBase reported that just two months ago in October of 2018, that they've started seeing record new user growth again, (25,000+ new accounts opened per day) which has now surpassed 25 million total… In the middle of a bear market.

So yes, the price of crypto has fallen just as the price of any asset falls after a record-breaking bull-run, but...


As You Can See, The Crypto Industry As a Whole is Just Getting Warmed-Up...

Crypto exchanges like Binance and Coinbase are already surpassing their legacy counterparts in growth and profits.

The biggest players on Wall Street are setting the table for their entry into the market.

Mass use and adoption will continue to grow as companies like Square's Cash App, and Starbucks simplify the process.

And it's clear that companies like Amazon, Bank of America, SalesForce, GM, Microsoft, Intel, are all scrambling to get involved in the industry.

But here's what's really important to understand…

The maximum number of Bitcoins that can ever produced is just 21 million.

That's it. Just 21 million.

As of today, there have been 17.4 million Bitcoins mined since it was launched in 2008, and it's estimated that 25% of them have been lost forever on discarded computers, lost hard-drives, lost private keys, etc…

That means there already isn't enough Bitcoin for each of the users on Coinbase alone to own a single Bitcoin.

Limited supply, plus massively growing demand can only mean one thing…

Bitcoin's price will skyrocket, and right now you have the opportunity to buy it at a massive 80% discount.

So here's a question worth asking yourself...

Have you ever met anyone who's gotten rich by betting against the development of technology? Betting against the development of the computer industry? The internet? Or the cell phone?

I haven't either.

Do you think it's smart to bet against the most revolutionary technology ever developed when it comes to the global financial industry?

Probably not.

So tomorrow I'm going to share a few of my favorite crypto-assets with you… Projects that I've invested in, and that I think have real potential for incredible growth and gains in the years to come.

Sincerely,
Mike Dillard
Founder, SelfMadeMan.com
Are you a Man of Ambition? Click here to join us...
curated by Glen Brink, January 2019, Bitcoin-Blog